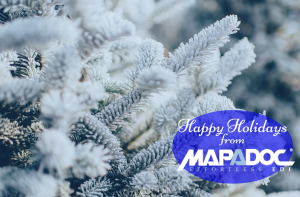 Happy Holidays from MAPADOC!
We at MAPADOC want to thank you for your business in 2015, and we look forward to sharing a wonderful 2016! (We have some awesome news for 2016, by the way — coming soon!)
To celebrate with our families, each MAPADOC office will observe the following hours in their local time zone:
Early closing: Thursday, December 24, 3:00 PM
Closed: Friday, December 25
Early closing: Thursday, December 31, 3:00 PM
Closed: Friday, January 1
As our gift to you, a donation will be made on behalf of all of our valued customers to:
The American Cancer Society
The Wounded Warrior Project
The Alzheimer's Association
Community FoodBank of New Jersey
Make-A-Wish Foundation
Habitat for Humanity
We hope these funds will provide many people with the gift of hope this holiday season.
Here's to outstanding business growth and success for you in 2016!
Have a safe and happy New Year!