Save the Date! Registration is OPEN!
MAPADOC Connections 2014 – September 17-19, 2014 | Chicago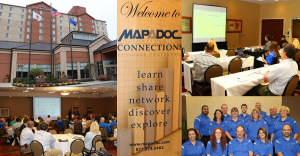 SWK Technologies is excited to announce our Second Annual MAPADOC CONNECTIONS Conference this autumn which will be returning to Chicago, on September 17-19, 2014. The MAPADOCCONNECTIONS customer conference provides you with a great learning and networking opportunity that will get you talking to the MAPADOC team, other MAPADOC end users, and various third-party software solutions providers.
This year we've expanded the conference to include a full day of training options the day before the conference, twelve breakout session topics, and an extra half-day of learning opportunities. To get a flavor of the event, you can read the recap from 2013.
If you'd like to learn more about MAPADOC CONNECTIONS 2014 and take advantage of a special early-bird discount, please register here. The entire MAPADOC team looks forward to seeing you again this year in the Windy City!